8/05/2022
Stop me if you've heard this one before:
"It's overbought! The RSI is too high!"
Guess that means it's time to sell, huh?
One problem — a position can stay "overbought" or "oversold" and leave you in the dust…
I've talked to a couple of market makers about this…
After recovering from their laughter, they all said the same thing: It means nothing.
Think about it… Would you consider new highs and increased volume bearish?
Let's get a look at one that hasn't stopped climbing.
Check out Enphase Energy, Inc. (ENPH):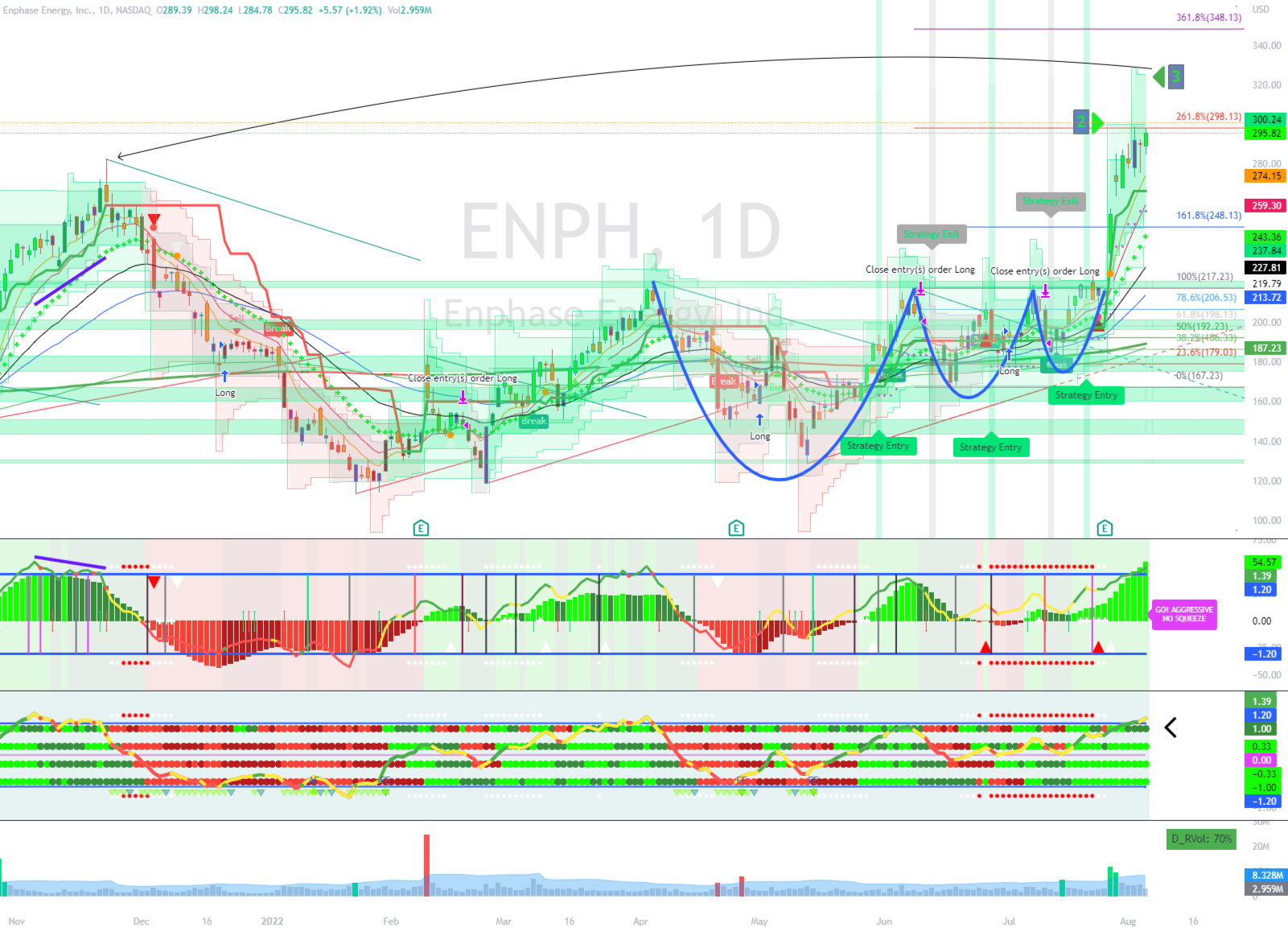 Up above is the daily chart going back to November of 2021…
It's been choppy, of course, but so has the rest of the market.
And with legislation making waves in the energy space, a bullish pattern developed that, in hindsight, was all too obvious..
The Support and Resistance channels are all Support at this point now that the stock has burst through the prior pressure points.
On the Fibonacci Retracement, ENPH breached the 261.8% mark which is a good spot to take some off the table…
Now, I've drawn in a pattern that has a few names: Flat-Top Wedge, ABCD, Whiplash, or what Mark Minervini calls a "Volatility Control Pattern".
Higher lows and plenty of curling to a point of Resistance…
So, where's it going?
In terms of price targets, what deserves emphasis is the ATR (Average True Range), or in this case, the ATR Bands created by Chris Hood.
These have similarities to a Donchian Channel although they're much more specific in relation to the ATR and expand and contract according to the share price volatility.
I have two of these stacked on each other, one set to a multiple of 3x the ATR, the other at 2x…
Typically, if there's a break above the latter, you can expect the share price to bump higher, potentially stretching to the 3x ATR Band.
I've marked both here and the black arrow points to a previous move that illustrates my point.
Using Chris's Squeeze 4-Pack v8 we can get a look at the momentum on the 5-period which is just slightly beginning to fall as it's turned dark green. On the other hand, the longer time periods are still rolling.
The composite Stochastic line is high, but pointing higher and there's no bearish divergence to be found…
If you look left at the purple lines, you can see what I mean when the share price fell.
That said, ENPH will pull back in due time… I'd buy then.
Keep moving,
(Disclosure: I hold no position in ENPH but intend to initiate a position in the next 30 days.)
This material is not an offering, recommendation, or a solicitation of an offer to buy or sell the securities mentioned or discussed, and is to be used for informational purposes only. Any performance results discussed herein represent past performance, not a guarantee of future performance, and are not indicative of any specific investment. Due to the timing of information presented, investment performance may be adjusted after the publication of this report. There can be no assurance that the future performance of any specific investment, investment strategy, or product made reference to directly or indirectly in this communication will be profitable, equal any corresponding indicated historical performance levels or be suitable for your portfolio.